The Next Generations
Otto
Otto Zaehring
By 1910, Otto, William and Auguste's first child, was living at 172 Hillside Ave in the southern part of Newark, NJ with his parents. Sometime after his father's death he and his mother, Auguste, moved to a house he built himself on Wesley Place in North Arlington. At some point, he suffered a severe case of frostbite on his ears while working outdoors, making the cold New Jersey winters quite painful. For this reason he went south each winter to Florida where he worked until spring before returning to his home in New Jersey. His winter home in Palm Beach County, Florida was a small house on a small farm about five miles inland from the ocean where he grew, among other things, potatoes. Each time he came north in his Model T Ford5, he brought citrus fruit for the family. One year his nephews chipped in to buy a Model A car since his Model T was worn out. But when it was time to go south to Florida he sold it and bought another Model T, apparently unable to get comfortable with a standard stick shift. (Model T's essentially had just a "forward" and "reverse".) He would make these trips in about three days which, considering he was in a Model T on 1930s roads, is really "pushing it." He remained single his entire life. He died April 15, 1945 in Palm Beach County, FL. To quote his nephew, "He was a very good man."

Margaret
Margaret, William and Auguste's second child, married John Frederick Belus between 1895-97, who was himself no stranger to immigrant problems, having come to this country from Germany as a young teenager in 1880. They had three children, Eleanor, born August 24,1898, William Charles, born September 29,1901 and John Frederick Belus, Jr. born May 31,1906. By 1910 they too had moved from Brooklyn to 194 Devon Street, Kearney, NJ, where John, Sr. worked as a machinist at the pumpworks nearby. Margaret died about 1925. One anecdotal fact in family memories is that Margaret served as a governess for the Adams family, of Adams chewing gum fame.

Eleanor

Eleanor (nicknamed "Lo") went to Coleman Business College where she met and married William H Becker. They moved to a large house at 42 Morgan Place, Kearny NJ in 1922 and lived there for 55 years. They had two children, Virginia and William, Jr.. The house was expanded to accommodate her mother Margaret, which resulted in the current breakfast room. Uncle Otto did the wonderful woodwork in the house. Both of Eleanor's brothers lived with them until they went off to school or out on their own. William (Bill) Becker had a printing company in Newark, with the Howard Savings Bank as a major customer in the early years. It was relocated to Keyport, NJ in the late 1970's after Bill turned it over to his son, Bill, Jr.. Eleanor's niece, Gretchen, bought the Morgan Place house from them in 1978. They also had a summer home a few blocks from the beach at 103 Worthington Ave in Spring Lake, NJ. Eleanor always said it was in Belmar, because Spring Lake had a reputation as the Irish Riviera. Virginia married Donald M Bastido and had two children, Jane and Susan. William Henry Becker, Jr. married Patricia Gray and had three children, Wendy, Christopher and Pamela.

William Charles Belus
William Belus worked in the Dupont plastics plant in Kearny until 1938 when he married Lillian Godfrey and moved to Miami, Florida. There they had two children, William, Jr. born September 28, 1939 and Margaret Florence (called "Gretchen") born November 14, 1948. Eleanor and Bill Becker took a vacation every winter and visited them in Florida each year. William Belus, Sr. eventually died in Miami on May 19, 1968. His wife Lillian subsequently died in Jacksonville, Florida on September 13, 1984. Gretchen married Wayne D Slocum and had one child, Laura Gretchen Slocum, born December 17, 1969. They moved to New Jersey and eventually bought Eleanor and Bill Becker's Morgan Place home. Laura married Kris Stensland on September 30, 1991on the island of Kauai in Hawaii. They have two children Katherine Shelby born October 11, 1997 and Tyler James born on November 21, 2000. William Jr married Brenda Parker in Memphis Tennessee. They have three children: Kimberly Jo born on May 21, 1963, Kelley Anne born on October 18, 1965 and William Charles Belus III on January 17, 1972. They reside in Bartlett, Tennessee.

William Jr married Brenda Parker in Memphis Tennessee. They have three children: Kimberly Jo born on May 21, 1963, Kelley Anne born on October 18, 1965 and William Charles Belus III on January 17, 1972. They reside in Bartlett, Tennessee.
John Belus, Jr.
John Belus, Jr. married (Evelyn) Agnes Bodden and had two children, Paul Richard Belus (who married Margaret Landis) and Brian David Belus. Paul Belus has two sons, John Franklin and David. Brian Belus married Maryan Kolb and has two children Michael and Katie. Much of the family remained in the New York - New Jersey area.
Max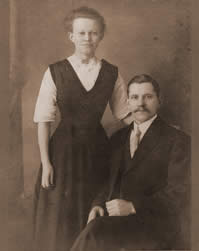 Max & Elsie Zaehring
Max, William and Auguste's third child, married Elsie Weise, born November 22, 1882, in 1909 6. William hand-made a round mahogany table with two matching padded chairs as a wedding present. After living briefly in Brooklyn, they moved to the bottom floor of a tall but narrow multifamily house on the corner of Bergen and Highland Ave (105 Bergen Ave), Kearney, NJ, on top of the ridge overlooking the Passaic River several blocks away. Max was a machinist at the pumpworks (perhaps together with John Belus, Sr.). They had three sons there, Robert William Zaehring born February 19, 1912, Rudolph Otto Max Zaehring born September 21, 1914 and Bernard Carl Zaehring born May 4, 1916. They moved to Princeton Ave, Scotch Plains in 1921. In the 1930s, Max grew gigantic strawberries, which he sold from a stand down on the main street. Max died March 17, 1944. Afterward, the family built Elsie a tiny cottage next door where she lived alone for many years, supporting herself as a housekeeper to a number of families who remembered her fondly. She carefully tended gardens all around her little cottage in what was Plainfield, then Scotch Plains and subsequently part of Westfield, New Jersey. Elsie died in 1982. The cottage remains almost the same as originally built, but without Elsie's bountiful garden. Their sons lived for many years in New Jersey and eastern Pennsylvania, although all three ended up in Florida.
Robert William
Robert William, Max and Elsie's oldest child, first married Ruth Mauser and had three children, Barbara, Robert William, Jr. and William Thomas, who all grew up in New Jersey. After their divorce, Grandma Elsie was a significant part of the children's upbringing, taking the three children in for a number of years. They all had chores, Barbara remembers ironing everything– even underwear. Eventually, Ruth remarried Clarence Gaston and the three children lived with her for their remaining upbringing. Clarence lost his hand in an accident at the picture engraving company where he worked. Barbara, Robert's oldest child, married Andrew Johnson, lived in Scotch Plains and Toms River, NJ and had 5 daughters, Sharon, Gail, Cathy, Barbara and Andrea. After working as a mechanic for a number of years at Mack Truck, Andrew moved the family to Naples, Florida in 1975 where he continued as a mechanic and eventually owned a gas station. Robert William Zaehring, Jr., Robert's second child, (who never acknowledged the "Jr.") married Mary E Polison and had two children, Katherine and Michael. They lived in North Plainfield, New Jersey for many years until August 1972 when they moved to Indiana due to Robert's job with Ingersoll Rand. Robert died in 1999. Michael Zaehring married Lisa, lived in North Carolina, and has a daughter, Nichole and a son Douglas. Katherine Zaehring has one daughter, Mary and lives in Indiana. William Thomas Zaehring, Robert's third child, first married Virginia Kohl and had four children, Virginia L, William Henry, Thomas Warner and Robert Kenneth, who grew up in South Plainfield, New Jersey. For a number of years William Thomas worked for the Post Office. After their divorce, Virginia took back her maiden name. Virginia L Zaehring, William T. and Virginia's first child, has two daughters, Virginia Bernice Zaehring and Jennifer Lynn Zaehring. Jennifer has one daughter, Elizabeth Gillian Briers. William Henry Zaehring, William Thomas, Sr.'s second child, married Ann Lapatta and had one daughter, Heather born in 1984. He was subsequently married to Carol and then briefly to Pamela (with no children)and lived in Virginia. Heather, his daughter, married and has her own family. His mother lived with them for some time. Thomas Zaehring, William Thomas, Sr.'s third child, married Debra Fowler Zaehring July 13, 1989 and lives in North Carolina. Robert Kenneth Zaehring, William Thomas, Sr.'s fourth child, married Ellen Zimmerman Zaehring before moving to Wisconsin. William Thomas, Sr. subsequently married Barbara Vogt Zaehring and lived in Maine. They have two sons, Shawn Zaehring and William Thomas Zaehring, Jr.. The family moved to North Carolina for some time before relocating to Arizona. Shawn married Jennifer Jancewitz Zaehring (now divorced) in Arizona. He has since remarried to Tara Trakes and lives in Maine with two children. William Thomas Zaehring, Jr. also lived in North Carolina for some time.

Subsequently, Robert, Max and Elsie's oldest child, married Ruth Sengstack and had one child, Richard J, born about 1942. They lived in New Jersey and Pennsylvania before moving to Florida. Robert died in 1995. Richard Zaehring first married Judith Simcox Zaehring and had one child, Holly. Judith died in 1993. Holly Zaehring married Richard Andress and has a son Jesse Mason Andress and a daughter Emily Joy. Richard was a metallurgist for many years. Richard subsequently married Theresa Koller Zaehring. They too live on the east coast of Florida, where Richard is an avid sailor.

Rudolph Otto Max
Rudolph, Max and Elsie's second child, married Dorothy E Gehman in 1939. Originally they lived in Nixon, an area between Metuchen and Rahway, NJ. They had two daughters, Peggy born in 1941 and Linda born in 1944. They moved to Surf City on Long Beach Island, NJ in 1945, the year after the devastating hurricane. Rudy was a mechanic who worked on outboard motors and other small engines They typically moved to north Jersey each winter to keep earning a living. After a number of years they moved to Beach Haven, where Rudy owned and operated an outboard repair shop and small marina. Peggy Zaehring married Henry Chamberlain and eventually moved to Florida. They have two children, Christian and Kevin. Peggy died of cancer in May, 2006. Linda married William Charles Kurz and had one son, William Karl Kurz, who married Karyn Murray. They live in Florida after serving as missionaries around the world, and have three children, Steven, Emily and Jonathan. Linda Zaehring then had a daughter by Joseph Smutts, who is now Holly Tomporowski. Linda married Frank Milano and lives in New Jersey. Rudolph sold his business and retired to Florida, where he died in 1979. His wife Dot lived in the same home in Florida for many years.

Bernard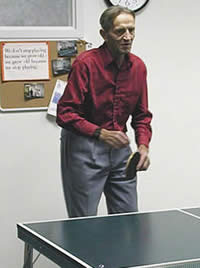 Bernard Zaehring
Bernard, Max and Elsie's third child, married Mabel Tulloch and lived in Rahway, New Jersey, where he first worked for Merck Chemical and then Standard Oil. They had three sons, Craig born in 1941, Daniel born in 1945 and John born in 1949. In 1953, the family moved from Rahway to Middletown, NJ where all three sons grew up. Craig, Bernard's first son, married Cynthia Stanton, lives in Massachusetts and has three daughters, Emily, Vanessa and Rebecca. Daniel, Bernard's second son, married Andrea A Atkinson on June 10, 1967 and had two children born in Hawaii, James born 1976 and Jennifer born 1981. They subsequently moved to Washington State. James married Michelle Beaver and now lives in the Seattle, WA area. They have two sons, Judah and Samuel and a daughter, Zoe. Jennifer married Bryan Johnson and also lives in western Washington with their two children, Hazel and Gustav. John, Bernard's third son, married Janice M Campbell and has one daughter Julia, who has a son, Carson. After living near Tallahassee, Florida for many years John retired from the Post Office and moved to Port Orange, FL. Bernard and Mabel, having lived most of their lives in New Jersey moved to central Florida, after Bernard retired with 20 years from the Post Office. Mabel died in May, 2006. Bernard died in 2012, the last of that generation.

Frank
Frank, William and Auguste's fourth child, married Nellie Sherman, daughter of George and Hannah Forrest Holman. They had a daughter, Arriadna born November 15, 1905. The 1900 census and a 1909 city directory reported his occupation as a baker. Frank died before 1910. (Interestingly the 1910 census shows Auguste having 5 children with 4 living.) By 1920, Nellie and Arriadna had moved to Alameda, CA to live with Nellie's sister, Grace Sherman, who ran a boardinghouse there. Nellie is listed in the 1920 census as Nellie Bowers, a widow. According to her sister's family she remarried a Mr Rollins (or Robins) in California. Arriadna married Joel Carr and had one daughter, Doris Mae Carr. Arriadna married Mr Swan by the time of her death on September 24, 1960 in Alameda County, CA. Her daughter, then referred to as Mrs Doris Clark, had several children. I have not found any more information about this branch of the family.

Ernest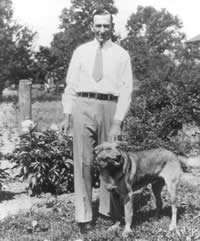 Ernest W. Zaehring and Sarge
Ernest,7 William and Auguste's fifth child, was a private in the Marines, having enlisted in 1908 at the Brooklyn Navy Yard. He was stationed in the Phillippines at the time of the 1910 census. He also served in Guam, Shanghai and Boston. He subsequently married Helen Raichel and had one child, William Ernest, born in 1916. They lived in Arlington, NJ before moving to Bristol, PA. Ernest died in 1944.

William Ernest Zaehring, Sr.
William Ernest married Myrtle Davis and had one son, William Ernest, Jr. born in 1940. William Ernest, Jr remembers his grandfather turning over all his shoe rations during the war so that as a young boy he would have decent shoes, something his grandfather had gone without, resulting in lifelong foot problems. Perhaps related to this, one of the notations in his Boston military record reveals that he lacked the required two pairs of regulation shoes. William Ernest, Sr. lived many years in Pennsylvania before moving to California and marrying Alberta. He died in 1996. William Ernest, Jr. married Daniene Cheatham and has three children, Holly, born in 1960, Kris, born in 1963 and William Ernest III, born in 1971. William Ernest, III. has a daughter. William Ernest, Jr is now married to Nancy and lives in California as did William Ernest, III. Holly is married to Steve Presnal and has three daughters. Kris married Elton Powers on April 26, 1982 and has two daughters, Eslin Rhea Zaehring born in 1981 and Tara in 1984. Elton died in an accident in 1985. Daniene and her daughters' families live in Texas. Eslin now has two daughters.


There are numerous stories of the family either getting together or looking out for each other. New Year's Day celebrations in 1934 included the Bill and Eleanor Becker family and various Zaehrings huddling around the Becker's radio in Arlington listening to the Rose Bowl. Columbia, in its only appearance there, was playing Stanford. (Columbia won 7-0.) In another memory, the Ernest Zaehring side of the family came to Max's funeral, but found themselves in bitter cold snowy winter with only an open Ford coupe. Cousin Rudy drove them back to Bristol, Pa in his closed car and then when the weather was better the next weekend he and his wife Dot drove both cars down to return the coupe. Numerous Zaehring's remember with fondness visiting Elsie Zaehring's house, seeing her garden and sharing her homemade ice cream. Many more family stories could be added here.

There remains a few "stray" Zaehrings. One, who apparently is not related (at least on this side of the Atlantic). It is a story in itself. Werner Zaehring was the subject of a search originating in Germany sent to many of the Zaehrings in the family. He was born on December 30, 1909 in Berlin, lived in the United States for many years, most recently at Kew Gardens in Queens, NY before dying in August 1978 in Stuttgart, Germany. If he is related, it is through Wilhelm's siblings or parents (ancestors) on the German side of the Atlantic.

The other is a companion to Wilhelm and Max on their voyage here, Friedrich Zaehring, listed on the manifest as age 34 and a laborer. Since there is no further reference to him, until additional information is found it is presumed that he returned to Germany or died very soon thereafter. One possible connection is the family tree of Adoph Zering in Connecticut lists his father as Friedrich Zaehring. With a name change like that, it would almost be the same as disappearing. In any event, there has so far been no direct family connection found.

Prepared by Dan Zaehring 1008 Park Street Friday Harbor, WA 98250
(360) 378-6353 E-mail dan@zaehrings.com